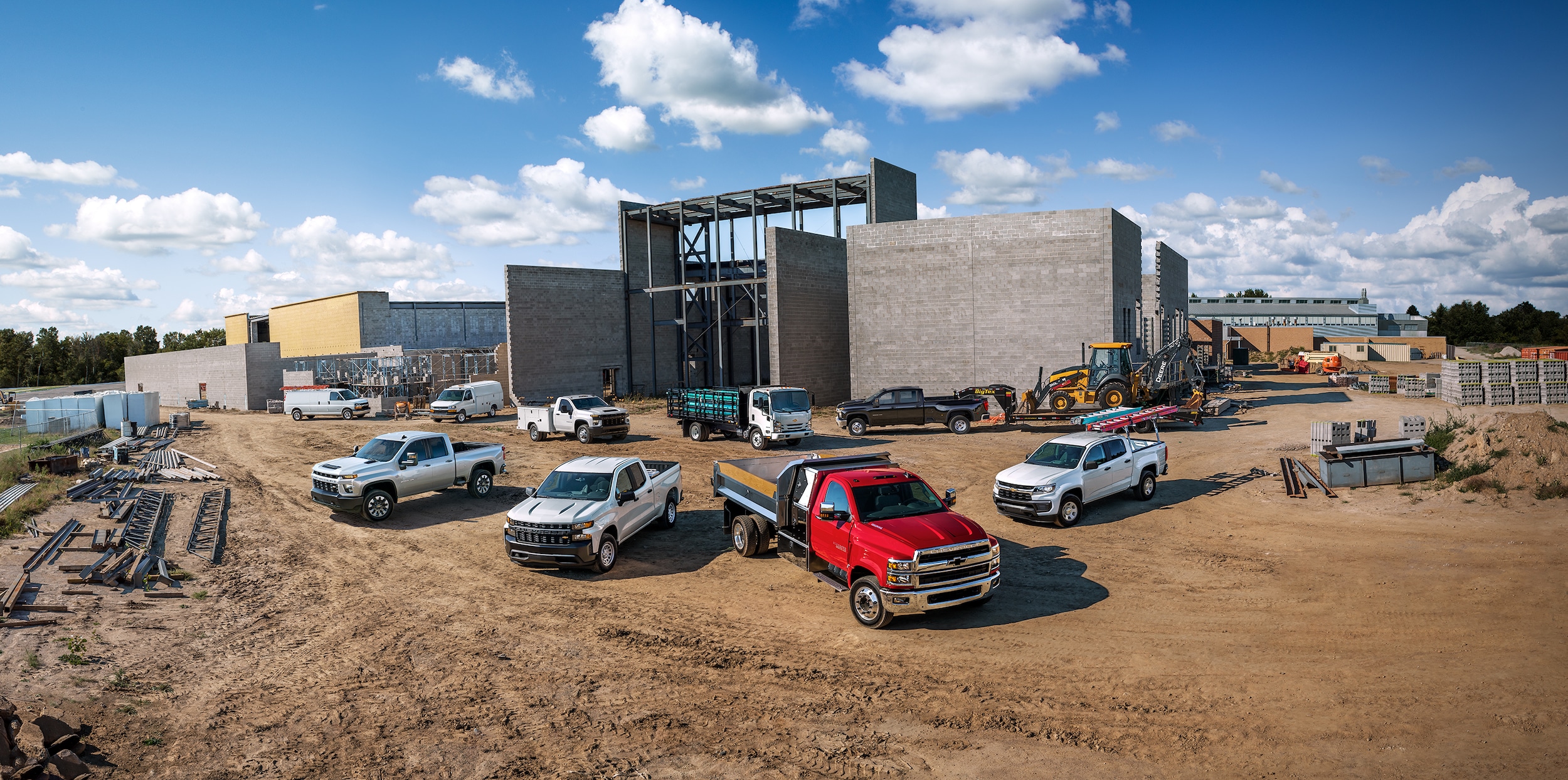 Shop our selection of work-ready Medium Duty Chevy trucks for sale in Palmyra, PA at Klick Lewis Chevrolet
Here at our Palmyra, PA Chevy dealership, we have a long history of serving drivers from all corners of Pennsylvania. And while most of the cars, trucks, and SUVs we sell are for personal use, a lot of business owners and fleet managers around the greater Lebanon, PA area come to our dealership to buy commercial vehicles like our medium duty Chevy trucks. And once you've seen these sturdy workhorses in action, we're certain you'll want to have a Chevy medium duty truck on your side when you're heading out to your next jobsite.
Got questions about our Medium Duty truck inventory?
As a commercial truck dealer serving shoppers from Hershey to Harrisburg, PA and all points in between, we've got the answers to the most frequently asked questions about medium duty trucks here at Klick Lewis Chevrolet.
Q: What is considered a medium duty truck?

A: As you might expect, medium duty trucks fall on the spectrum between all-purpose light-duty pickup trucks and heavy duty trucks that are often oriented towards heavier hauling and towing job. Medium duty trucks range in gross vehicle weight rating between 14,001 pounds and 26,000 pounds.

Q: Does Klick Lewis have medium duty inventory?

A: Absolutely! In fact, our new Chevy medium duty truck inventory runs the gamut from conventional pickups to available dump body, platform body, cutaway vans, and more.

Q: What is the best medium duty truck?

A: We'd argue that the answer is always our Chevy Silverado Medium Duty trucks. With their durable reputation and wide range of upfitting options, these medium duty trucks for sale at our dealership near Hershey are among the most capable out there.

Q: What is the difference between a light duty truck and medium duty truck?

A: Light duty pickup trucks range in gross vehicle weight rating of 14,000 pounds or less, while medium duty trucks occupy the gross vehicle weight rating spectrum of 14,001 pounds to 26,000 pounds.
Reach out to the team at Klick Lewis Chevrolet
With our expert commercial vehicle sales team, we can easily pair you with the perfect new Chevy medium duty truck for your business' needs. Drop by our dealership to learn more about our commercial vehicle inventory today.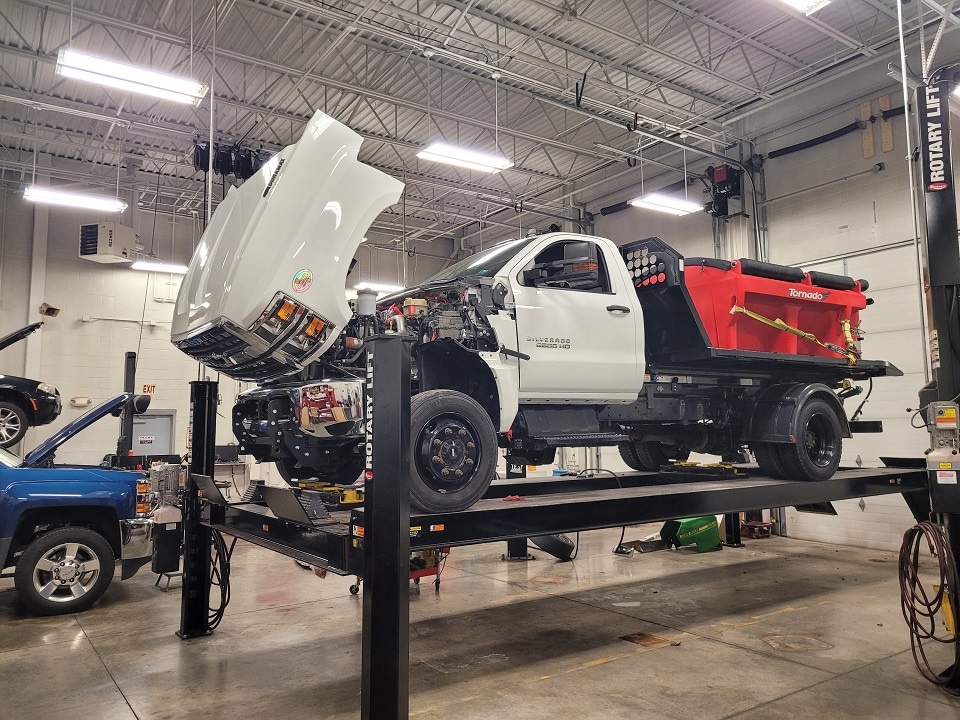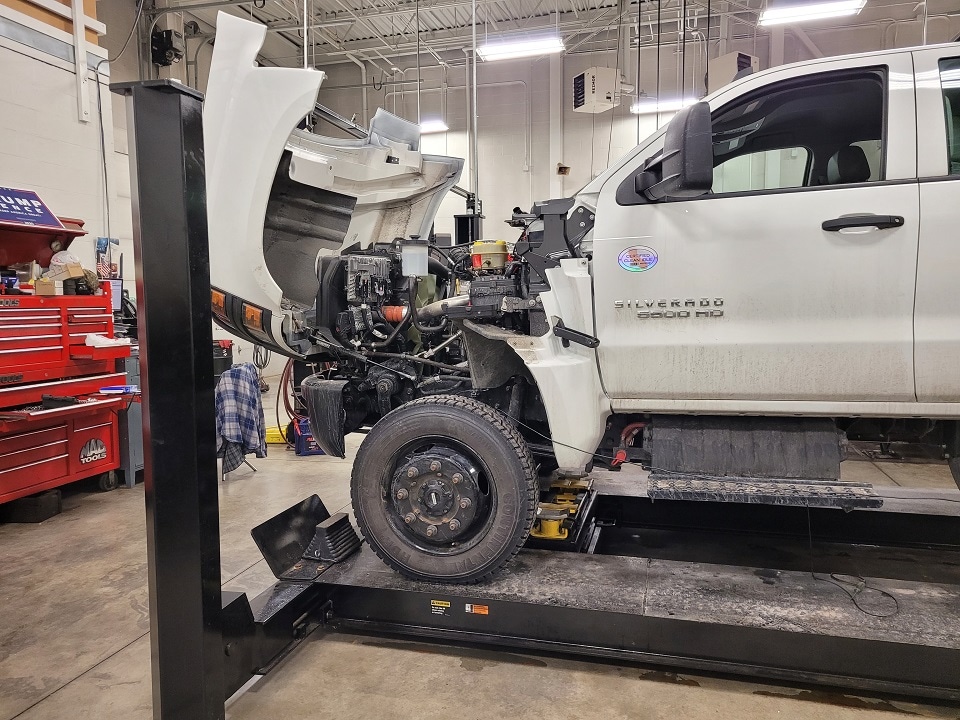 Service Your Medium-Duty Truck at Klick Lewis Chevrolet
When your medium-duty truck needs to have its oil changed or brakes replaced, bring it to Klick Lewis Chevrolet, serving Susquehanna Valley. We're lucky to have certified service experts responsible for doing all types of truck repairs. Our state-of-the-art facility has specialized equipment and original parts to use on your medium-duty Chevy truck. You can expect competitive pricing and superior attention to detail when you schedule maintenance with us.
Keep Your Chevy Truck in Excellent Condition
Trucks work hard. They haul heavy equipment. They tow large trailers. They do it all. If you want your medium-duty truck to last for years, you need to keep up with routine auto service. We'll keep an eye on the engine, tires, brakes, transmission, battery, and everything else that keeps your Chevy Silverado 2500 going. The service experts at Klick Lewis Chevrolet know your medium-duty truck better than you do, which makes us capable of diagnosing any problems and replacing all parts.
Truck owners throughout Central Pennsylvania can request service through our dealership's website. We have a digital scheduling portal where you can choose a time and date for your next visit. We handle all truck maintenance - from minor to major repairs. Here's a look at what we can do for your Chevrolet:
Change the Oil Filter
Rotate the Tires
Inspect the Brakes
Replace the Battery
Install New Air Filters
Realign the Wheels
Repair the Transmission
Flush the Coolant
Top Off All Fluids
Replace the Spark Plugs
Restore the Headlights
Tune Up the Engine
Swap Out the Tires
Schedule Medium-Duty Truck Service Online Today
Do the brakes on your Chevy Silverado 3500 squeal when you come to a stop? Does your engine struggle to turn over in the morning? Whatever is going on, your solution is within the walls of Klick Lewis Chevrolet, serving Central PA. Set up a service appointment for your medium-duty truck today. When you bring your pickup to our Palmyra location, a certified technician will take time to inspect, diagnose, and fix any issues before putting you back on Pennsylvania roads.
Questions? Let Us Know!
* Indicates a required field